6 Ideas Before Designing Your Dream Home
"Change happens all around us, such as the way of life, environment, society, population, structure, and advanced technology. This influences the ideas that we can consider before designing our dream home."
Design trends for the house usually came from the influence of the changes from the environment, society, way of life, technology and innovation for human needs. This has led to housing concepts that respond to different lifestyles such as the energy-saving home, healthy home, elders' safe home, environmentally friendly home, disaster-resistant home, and small-sized home. Homeowners who find the ideas interesting and useful can use them as guidelines for their architects.
Energy-Saving Home
Resources are becoming scarce by the day while many consider this a threat and begin the collaboration to save and efficiently use energy. This includes designing eco-friendly homes that save or lessen the use of energy which can be categorized into 2 types, energy-saving homes by design and energy-saving homes by technology.
Energy-saving homes by design consider sunlight and wind. In these homes, skylights are positioned in directions with mild sunlight (ex. the north) and openings are provided for the wind to enter and flow out of the house for good ventilation. Functional spaces are designed to coincide with sunlight, wind, and functionality. Materials which are insulators and do not accumulate heat are selected for these homes. Moreover, the eaves often extend out in the direction with much sunlight. This can be seen in most of the houses that are built for the tropical climate in Philippines. In these homes, dwellers are less dependent on energy as the home itself can block sun and rain while providing great ventilation.
Energy-saving homes by technology are homes that manage and control energy usage in the house install a solar cell system and recycle resources (ex. reuse rain or greywater). Also, they are equipped with ventilation and cooling systems to alleviate heat
Installs energy-usage controls and water recycling systems.
Homes which produces energy with solar panel for less electricity usage.
Healthy Home
Some families involuntarily live in the city with several factors and limitations such as land size, pollution, smog from vehicles as well as crowded stores and people. A home should serve as a sanctuary for both the body and mind. It should have good ventilation and suitable temperature, neither too hot nor too cold. The home should provide pure air for good health while noise should not disturb everyday activities such as reading (and not interrupting neighbors). Lighting should be appropriate (neither too dark nor too bright) and the atmosphere should offer privacy. Functional areas should fit its usage and construction materials should be safe, non-toxic, and easy to maintain. There are many more details that may affect the emotions and feelings of the tenants. Most importantly, one should always feel safe and worry-free when inside the home.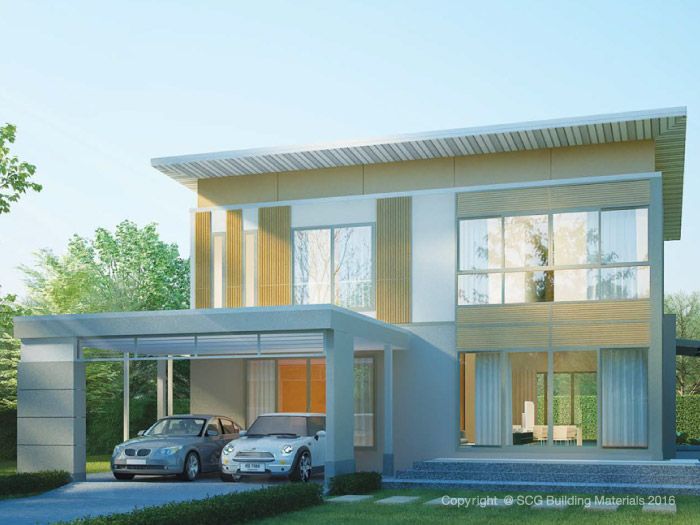 Home that is equipped with an Air Factory System which ventilates and filters air while reducing odor from outside. Thus, the air within is pure and can lessen risk factors that may cause allergies
Toilets and kitchens should use hygienic tiles that can prevent bacteria and are easy to clean.
Elders' Safe Home
Shifts in the population structure have brought about an increase of elders. Philippines soon might be entering the aging society, thus, we must prepare homes for those (parents or our future self) who will undergo a change in both the body and mind. They must be able to live and fully carry on activities conveniently and safe. For home designing, the physical features must allow elders to be mobile in all areas such as even floors, fewer stairs or steps, and designs for the proper walking distance or wheelchairs. Also, materials should be safe to prevent accidents. As for the mental features, designs should provide a common space for the whole family to make elders feel important. On the other hand, private spaces are also required for elders to happily be themselves. Additionally, windows and openings should be designed to fit elders so that they can clearly see the exterior view and not feel isolated.
Designs that are friendly and safe for elders.
Third Generation Home
The Filipinos are familiar with living together as one big family wherein every generation has different needs. This influences private functional space design that seeks to match each individual and shared spaces for every generation to enjoy together. This also involves choosing the right equipment and color.
The area in focus should be the spaces for children and elders. Children's area should promote learning, development, and imagination. Also, it should consider cleanliness and safety. Moreover, functional areas should be capable of alterations following the child's development. Elder's space should be designed for elders to carry on everyday activities conveniently and happily. Avoid slippery, sharp materials and install items that can help with balancing and support physical changes. This will help prevent accidents.
Children's spaces which promote learning, development, and imagination. Also, functional areas are open for changes to match child development.
Elder's spaces designed to support elder's physical changes for them to safely and happily reside at home.
Natural Disaster-Resistant Home
Natural disasters unexpectedly occur. In the Philippines, floods and earthquakes are quite common. In the past, traditional Filipino homes are elevated above the ground, so they are livable even with floods. However, with changes coupled with the influence of western culture, nowadays, cement homes are no longer elevated. Houses are no longer built to cope with floods or earthquakes. Unfortunately, natural disasters still occur, hence, people are beginning to worry. Today, organizations develop innovation and technology to help build actual homes that can withstand natural disasters and unexpected events such as the flood-resistant home (Amphibious House) and earthquake-resistant home.
Pilot flood-resistant home "Amphibian House" Image: Site-Specific Co., Ltd.
SCG HEIM's structure is specially designed to be durable and can greatly bear and distribute the load. It can withstand a 7 Richter earthquake.
Small-Sized Home
More and more Filipinos are living as a nuclear family (father, mother, and child). There are those who choose to purchase land to build new homes or build on existing land (near the parent's home). The size of such home is often compact and only large enough just for the family. Nowadays, the land is limited and budget for home building also becomes limited. This has led to the popularity of small-sized homes that fit the budget and are easy to maintain.
Small-sized homes can be designed for comfortability that fit usage of family members. They can be built for good functionality with appropriate structures, layout, and systems. Designs can provide good ventilation while lightings, colors, and materials can make the home feel spacious and pleasant.
Small-sized homes designed for great functionality to match the family's requirements.
If you are looking to build a house, these ideas or a combination of the ideas can be part of the guidelines for the architect. This way, they can design your dream home to match your core needs.
More content
12 July 2022
Aside from alleviating the heat from the roof, reducing heat from the walls can also lessen temperatures in homes.
10 November 2022
While it's true that neutral room schemes are safe, introducing a splash of colour could be just the answer to add character and style in your living room.
26 January 2023
Let's make it a point to make small changes for your lovely home this love month of February!